Tropes. We love them, we hate them. Some, such as Instalove, are notoriously frowned upon and generally thought of as little Satans come to set fire to our otherwise perfectly enjoyable book. Others, such as haters-to-lovers, are like novel clickbait; we just can't seem to resist them. And then we have some of the less-talked about (but equally entertaining) tropes, such as the "At least things can't get any worse" gag, where things inevitably do get much, much worse. Or perhaps that timeless classic where the plucky pilot shouts, "We've got company!" just as enemy ships come soaring in for an attack.

But my personal favorite is probably the Good Angel, Bad Angel routine where a character's conscience is split in two – an angel and a devil. Why is that my favorite? Probably because I've always thought it would be hecka weird to talk to mini-versions of myself like that.
On the other hand, wouldn't it be nice if such a thing were real and we all could have our own personal shoulder angels (forget about the shoulder devils though, because who really needs that negativity)? I know I want one because sometimes life is full of choices and being an adult is hard and you can't decide if you should get a large pizza or an extra large and somebody please send help.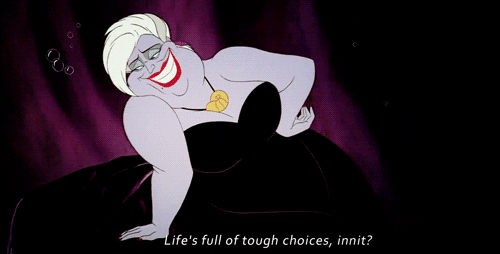 That's where the angel would come in. They would give you sage advice ("Get the large. Your wallet will thank you for it later"), protect you from evil ("Are you seriously going to wear that top with those pants? Nonononono"), and help you be an overall better human ("What do you mean you've never watched Friends? We're fixing that right now").

In the book, Dreamer, by Ja-Mel Vinson, college freshman Maya Lilac actually gets to experience this. Granted, her angel isn't so much a subconscious, metaphorical angel like it is in The Emperor's New Groove, as it is an actual, physical Angel (with a capital A).

In a world full of demons, dreamers, and (yes, you guessed it) angels, it isn't strange that Maya has her very own Guardian Angel. In fact, it would be stranger if she didn't. As the True Dreamer (AKA: The one person who is tasked with safeguarding the entire human race from complete and utter destruction….yeahhhh no pressure there), somebody needs to help protect Maya from her enemies. And that somebody just so happens to be her Guardian Angel, Bailey.

Disguised as an inconspicuous house cat (anyone else getting Luna from Sailor Moon vibes here?), Bailey has been watching over her charge since the day Maya was born. Although that might sound overwhelming, Bailey finds her daily routine to be quite fulfilling; she catnaps, she gets free belly rubs, and she attacks the occasional clone with Celestial Energy balls. As one does.

So obviously, Bailey is a pretty awesome Guardian-Angel-Slash-Pet-Cat to have around. Sadly, I'm not as lucky as Maya (no magical pets for me…but I did have a pet beta fish once who I swear was an immortal – that thing would never die!). In the meantime, I'll have to console myself with this list of five book characters who I wish were my Guardian Angels.
---
Cinna from The Hunger Games
Cinna is like, a literal Fairy Godmother. He will use his fashion designer magic to incite rebellion and make you utterly look fabulous – all while rocking that gold eyeliner.
---
Jude from The Cruel Prince
Okay, hear me out on this one. Yes, I would not trust Jude as far as I can throw her, which is not very far, by the way (curse these weak jelly arms of mine). And yes, I would never in a million years use the word, "angelic" to describe her. But you've got to admit, once Jude's put her mind to something, that girl will bend all of Heaven, Earth, and Elfhame to achieve it. I mean, she stabbed her own freaking hand just to prove that she was loyal to *SPOILER*, for goodness sake! I think her single-mindedness makes her uniquely qualified for the job of Guardian Angel, as long as you don't have a crown on your head, because then she'd probably steal it.

---
Hermione from Harry Potter
Being honest here: if it weren't for Hermione, Harry and Ron would have died a million times over. Let's review, shall we?
That time she saved them from the Devil's Snare
That time she solved Snape's logic puzzle
That time she figured out the monster in The Chamber of Secrets was a Basilisk
That time when she WENT BACK IN TIME to save two innocent lives (She's a Time Lord, people! nbd)
That time she taught Harry to use Accio (which saved his life TWICE, btw)
That time she led Professor Umbridge to her doom (and got us all cheering)
That time she saved Harry from Nagini
That time when she punched Malfoy in the face (again, see that part about the cheering)

So yeah. It would be unwise if I didn't include Hermione on this list.
---
Tinkerbell from Peter and Wendy
Again, this may seem like kind of an odd choice, but just think about it – if you can get past her fits of vindictive jealousy, then you've got an extremely loyal friend in Tink. She did sacrifice herself to save Peter from that poisoned "medicine," after all. As a proud Hufflepuff who values loyalty and friendship above all (or so Pottermore tells me), this is an extremely admirable trait to have in a Guardian Angel.

PLUS, you can't overlook the fact that you'd have an unlimited supply of pixie dust. So long as you don't run out of happy thoughts, then the world (this one, as well as ones of the Never Never variety) would be yours for the exploring.

---
Samwise Gamgee from The Lord of the Rings
Oh, so you thought that Frodo was the hero of LOTR?

NOPE. WRONG. Sam is the true hero, and if there was one fictional character who I would want by my side at the end of the world, it would be Sam. Because he's already seen the end, and he not only lived to tell the tale, but he prevented it from coming.
---
A Free Wallpaper
"To everyone I've mentioned here and even the people I didn't, keep dreaming. Your dreams have power. Your dreams can change the world."

~From Dreamer's "Acknowledgements" Section
Important:
The quote belongs to the author.
This phone wallpaper is free for your personal use only.
Please do not edit, repost, or redistribute this image.
If you are unsure how to set a GIF as your phone wallpaper, check out this handy tutorial.
---
BOOK INFORMATION
Dreamer by Ja-Mel Vinson
Self-published on 19 March, 2019
Classified as New Adult, Science Fiction, & Fantasy
✨I received an E-ARC of this book from the author in exchange for an honest review. ✨
The day before moving into her new dorm, college freshman, Maya Lilac, has a haunting dream that ends with her coming face-to-face with a second version of herself. After being haunted by the dream during move-in day, she finally comes in contact with her double, nicknamed "Lucent", and learns that she actually has powers and can—among other things—make her dreams come true.


Maya's heritage, however, runs deeper when she discovers that she's the True Dreamer, a person reaching back as far as Joan of Arc that's tasked with protecting her species, as well as the world, from any and all threats… including her seemingly-peaceful and non-combative double. But, not everyone shares Maya's vision that her clone isn't out to harm anybody, especially her mother. As Maya and her mother fight over whether Lucent is a legitimate threat, Maya trains in her now-active powers to fulfill her destiny of protecting the world, whether she has to take care of Lucent or not.
---
FOLLOW THE AUTHOR
Ja-Mel's Website // Ja-Mel's Goodreads // Ja-Mal's Facebook // Ja-Mal's Newsletter // Ja-Mal's Twitter
---
TOUR SCHEDULE
February 25
⭐Blog tour launch at Shut up, Shealea
⭐Review from Bookathon
⭐Cover-inspired moodboard from Holed Up In A Book
⭐Review from Shomoret: Masked Reviewer

February 26
⭐Review from Books and Ladders
⭐Review, creative post, & playlist from Nox Reads
⭐Review from Phannie the Ginger Bookworm
⭐ Creative post from Your Tita Kate

February 27
⭐Author interview with Shut up, Shealea
⭐Excerpt & playlist from Belle's Archive
⭐Review & graphics from Diary of an Avid Reader
⭐ Review from Dany's Book Blog

February 28
⭐Review from ETJ Writes
⭐ Review & creative post from Living a Hundred Lives
⭐Review & aesthetics from Open Pages
⭐Review, creative post, & graphics from Stella's Bookish World

March 01
⭐Review from Crimson Talks Books
⭐Creative post & phone wallpapers from Novels & Waffles
⭐Review & creative post from R E A (D) I V I N E
⭐Review from Thisbookishlifeofmine

March 02
⭐ Twitter chat hosted by Shealea (via @CaffeineTours)
---
TOUR GIVEAWAYS
For the tour, we are giving away two signed physical ARCs of Dreamer by Ja-Mel Vinson! One winner will be selected via Rafflecopter giveaway, and the Rafflecopter widget will close sometime in March. Meanwhile, the second winner will come from the Twitter chat participants (see details below!). Both giveaways are open to international readers! Click on the image below to enter the Rafflecopter giveaway!
---
TWITTER CHAT
---
Which book character would you choose as your guardian angel?
I love that Dreamer is a New Adult fantasy book! Do you have any NA fantasy books that you would recommend?