---
✨CLICK HERE TO SEE A COMPLETE LIST OF MY BLOGIFUL DESIGN POSTS.✨


→ Introducing The Blogiful Blog Design Event

→ 5 Steps That Will Help You Choose An Awesome Blog Name (ft. A Free Worksheet!)

→ How to Choose the Right Font for Your Blog

→ How in the World I Make My Graphics: A Step-By-Step Tutorial

→ My Branding Journey + Four Questions To Ask Yourself While Rebranding (ft. A Free Downloadable Checklist)

→ 4 Ways To Make Your Free WordPress.com Theme Look Different From Everybody Else's

→ An Interview with Web Designer, Hazel From Stay Bookish

→ Q & A Session + A Secret Reveal


---
I remember once when I was a twiggy Pre-Teen with scrawny legs that would be more appropriately placed on a chicken and a questionable sense of fashion (No mini-me, black-and-white-striped fingerless gloves do not make you look cool, they just make you look like a homeless Zebra), I got roped into attending one of my little brother's Cub Scout meetings. I can't remember the exact reason why I had to go – maybe my Mom just needed a place to dump us for an hour or two (which is such a mood now that I'm a mother myself) – but whatever the case, I do remember how harried the Den Leader appeared.

Just imagine trying to keep a room full of boisterous ten-year-old boys (plus one grumpy I-would-rather-be-anywhere-but-here adolescent) entertained and at bay. It was madder than a Wonderland croquet match.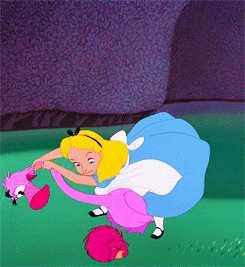 In a last desperate bid to calm the beasts, the frazzled Cub Scout leader decided that the best course of action was to teach her angelic charges the lyrics to a sing-songy chant. I suppose she thought that if all the boys' energy was channeled into something semi-productive, she would be able to quiet them down long enough to share some important announcements. The song itself went something like this:

Announcement, announcement, announcement!
What a terrible way to die,
A terrible way to die,
A terrible way to be talked to death.
A terrible way to die.
Announcement, announcement, announcement!
If you don't believe me, then google it. It's called the "Announcement Song," and it's a real thing.

In any case, this well-meaning plan backfired magnificently. Instead of everybody standing around in a tight circle, holding hands, and serenely singing kumbaya, this woman got a small army of wolfish children screaming the words "Announcement, announcement, announcement!" as loud as a chorus of air horns.

So, when I say that I have an announcement to share with you all today, I hope that you picture me screaming those words with the same force and gusto as that fateful Cub Scout Troop of twenty-or-so overly hyper kids.

---
ANNOUNCEMENT, ANNOUNCEMENT, ANNOUNCEMENT!
Today's exciting, ear-splitting announcement is this: from Monday, February 18th to Sunday, February 24th, I will be co-hosting a special blog event with the lovely Tracy @ Truffle's Literary Wonders dedicated entirely to the ins-and-outs of blog design. I know a lot of you have asked me to write up a post about how I make my blog graphics – and well, now you're going to have seven. Seven straight days full of design-related tips, hints, and giveaways. Let nobody say that I'm an underachiever.

The name of this awesome event will be Blogiful (yes, that's supposed to be a pun on the word, "Beautiful," because would I really even be me if I didn't include a pun? Gosh, I'm so on brand it hurts). Between the two of us, Tracy and I will be sharing our thoughts on various topics such as branding, wordpress themes, fonts, and color schemes. And, what's more, at the end of the event, there will be a secret reveal. If after hearing this news you aren't as excited as my brother's Cub Scout Troop, then I will be extremely disappointed.

So, stay tuned for the upcoming Blogiful Blog Design Event! Kat out!

What questions do you have regarding blog design?
What websites or programs do you use to make your blog pretty?
Are you excited for this event? I know I am!