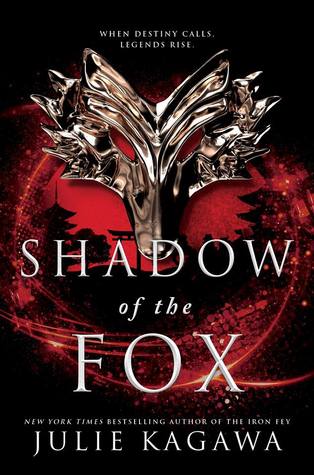 Shadow of the Fox by Julie Kagawa
Published October 2nd 2018 by Harlequin Teen
Classified as Fantasy& Young Adult
Obtained as Ebook
One thousand years ago, the great Kami Dragon was summoned to grant a single terrible wish—and the land of Iwagoto was plunged into an age of darkness and chaos.

Now, for whoever holds the Scroll of a Thousand Prayers, a new wish will be granted. A new age is about to dawn.


Raised by monks in the isolated Silent Winds temple, Yumeko has trained all her life to hide her yokai nature. Half kitsune, half human, her skill with illusion is matched only by her penchant for mischief. Until the day her home is burned to the ground, her adoptive family is brutally slain and she is forced to flee for her life with the temple's greatest treasure—one part of the ancient scroll.

There are many who would claim the dragon's wish for their own. Kage Tatsumi, a mysterious samurai of the Shadow Clan, is one such hunter, under orders to retrieve the scroll…at any cost. Fate brings Kage and Yumeko together. With a promise to lead him to the scroll, an uneasy alliance is formed, offering Yumeko her best hope for survival. But he seeks what she has hidden away, and her deception could ultimately tear them both apart.

With an army of demons at her heels and the unlikeliest of allies at her side, Yumeko's secrets are more than a matter of life or death. They are the key to the fate of the world itself.


---
Content & Trigger Warnings:

Violence, murder, death, threat of rape, talk of suicide, war.
---
Here are some of the ACTUAL messages from the best buddy read in history. These have never before seen the light of day, and they probably never will again, so you should count yourself lucky for this once-in-a-lifetime chance.
The Setting
In case there are any newcomers here who have yet to get the memo – SURPRISE! I live in Japan and I love reading books that are set there. But just because I live in Japan, I'm in no way an expert when it comes to the language or the culture. I'm as white as white can be (people have to wear sunglasses to shield their eyes from my whiteness) and as such, even though I've spent many years studying Japanese, I will never fully understand all of the nuances. Or the kanji. Kanji, I shake my fist at you!

That being said, Shadow of the Fox is the Japanese-inspired fantasy novel of my dreams. It's everything I've been looking for in a book, and it makes my Japan-loving heart bounce around like a kid who drank too much coffee. Julie Kagawa effortlessly weaves Japanese words into the narrative, and she doesn't let the story become bogged down with unnecessary explanations of every foreign word or tidbit of Japanese culture. She doesn't talk down to the reader by over-explaining what tabi or hashi are – she just naturally mentions them and then moves on.
THE WORLDBUILDING
Here's a little tidbit about myself: I'm a total geek who likes to read The Tale of Genji (源氏物語) for fun. Gosh, who does that? Back in college, I took a couple of courses on translated Japanese literature that focused on selected texts from the Eighth to Nineteenth centuries, and although it sounds like a total snoozefest, it was actually quite interesting – I swear! Anyways, because of this background knowledge, reading Shadow of the Fox was that much more enjoyable for me. I was able to see how Kagawa effortlessly includes so many subtle nods to both the traditional and pop culture of Japan, all of which help build the world of Iwagoto into a colorful and believable fantasy realm.

One such "nod" that I found was the origin story behind the Scroll of a Thousand Prayers. It made me think of the famous Japanese folktale, Tale of the Bamboo Cutter (竹取物語). In this ancient story, the Grand Counsellor, Otomo no Miyuki, attempts to steal the five-colored jewel from a dragon's head in order to win the love of the beautiful Kaguya-hime. Because that's how healthy relationships start. With a dragon jewel. When he realizes his folly, the Grand Counsellor prays for forgiveness from the dragon using these words: " 'God of steersmen, hear my words. I thought in my stupidity and childishness to kill a dragon. Henceforth I promise not to disturb a hair of one.' He repeated these words, it must have been a thousand times, until at last the thunder stopped." Sounds familiar, right?
THE CHARACTERS
Shadow of the Fox revolves around a prank-loving, half-kitsune main character, Yumeko, and her journey to restore a magical scroll to the safety of the Steel Feather Temple. Along the way, she is joined by the deadly Tatsumi of the Shadow Clan, a masterless samurai, an esteemed aristocrat, and a holy priestess. Honestly, alone any one of these characters may seem generic and unoriginal, but put them together and they create the perfect Found Family. Together, they create a fresh dynamic and become not only memorable, but immensely lovable.

Yumeko and Tatsumi in particular grew on me the more the story progressed, and let me just say, THE SLOW BURN IS REAL, FOLKS. Also, no spoilers, but there is legitly a scene where Yumeko throws FREAKING RADISHES at a hoard of demons. Yup. That happens.

THE PLOT & THE WRITING
Now don't get me wrong. As much as I love Shadow of the Fox, I am aware of its imperfections: there are tropes-galore, a few plot holes, and even some cringe-worthy writing. For example:

But his eyes… They were a luminous purple, the deep, brilliant shade of an iris flower, and yet, gazing into them caused a chill to spread across my neck and creep down my back.

Why is it that there always has to be least one paragraph describing the main love interest's eyes? I don't know about you, but I don't really spend that much time checking out a person's eyes. I digress. Sure, this book offers its share of cliches, but there's so much great Japanese representation going on that what might be considered trite and unoriginal becomes fresh and new.

All in all, this book means everything to me – a geeky girl who has spent half her life learning about Japan – and it can mean something to you too. All you've got to do is pick it up.

---
MIX IT ALL UP AND YOU GET…

5 WAFFLES!
---
What is your favorite read from 2018?
What are your feelings about buddy reading?
Have you read Shadow of the Fox? If so, what did you think of it?