Muse of Nightmares // Laini Taylor // ★★★★.5☆ – FFJDSKFJSLKJFLKSDF. That is an accurate description of my feelings for this book. Honestly, it wasn't what I was expecting; IT WAS SO MUCH BETTER. It had Mental Illness representation by the truckloads and basically was an answer to my many complaints about mental illness rep in the YA fantasy genre. Taylor explores the long-lasting emotional effects of war, and gosh, it all just felt so authentic. So real.
Mirage // Somaiya Daud // ★★★★☆ – WHAT'S THIS? A DIVERSE FANTASY NOVEL??? YyyeeEEEEEEEEEeessSS! *throws confetti* Here are three reasons I loved this book:
It has a unique setting and beautifully-developed worldbuilding.
There is poetry. I love it when there's poetry.
It's a perfect mix of Sci-Fi and Fantasy.
There. Three reasons. Now go forth and read.
Shadow of the Fox // Julie Kagawa // ★★★★★★★★★★ – Buddy read with May @ My 1st Chapter. THIS BOOK DESERVES ALL THE STARS. ALL. OF. THEM. Honestly, Shadow of the Fox is hands down my favorite read of 2018. It has the best Japanese representation I've ever found in a book and there are so many clever nods to both traditional and pop culture. It made me feel like I really was in Japan. Oh wait, I already am. I will continue screaming about this book for the rest of my life. Probably.
Wildcard // Marie Lue // ★★★☆☆ – I wasn't particularly in love with Warcross, but I liked it well enough to pick up the second book. I thought maybe Wildcard would turn things around for me – but the result was about the same as the first installment. HOWEVER!!!!! IT IS SET IN JAPAN, SO BONUS POINTS FOR THAT!
To All The Boys I've Loved Before // Jenny Han // ★★★.5☆☆ – Reading this book was like eating an ice cream sundae covered with hot fudge, melted caramel, strawberry sauce, chocolate chips, and whipped cream. It was just that sweet and soft. I think I might have gotten a cavity…
She-Ra and the Princesses of Power // Anybody else out there in love with this show? BECAUSE FOR THE HONOR OF GREYSKULL I AM. It has:
Cute hand-drawn animation. YASSSSSSSS.
Witty Humor
Complex villains that you end up liking despite the fact they're evil
A weird pirate(ish??) dude who likes to set his ship on fire. OH and sea shanties. There's definitely sea shanties.
FRIENDSHIP, RAINBOWS, AND A TALKING UNICORN THAT ADVOCATES FOR HORSE RIGHTS.
I mean, what else could you really want out of life? NOTHING, THAT'S WHAT.
Crazy Rich Asians // I finally, FINALLY, got the chance to see this movie. Curse you international copyright laws! Initially, I was worried that it wouldn't live up to the hype, BUT I WAS A FOOL AND OF COURSE IT LIVED UP TO IT. Bok Bok.
Ant-Man and the Wasp // Luis is absolutely the best part of this whole movie. Whenever he starts telling a story, I just start crying. 😭😭😭😭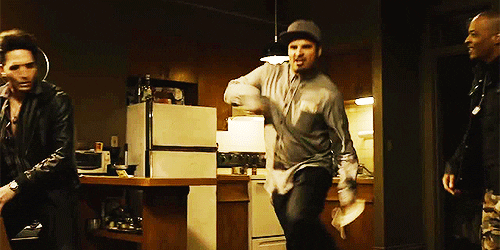 How was your month?
How many books were you able to read? Which books were they?
What movies or TV shows did you watch?
Tell me all about it in the comments!