I am an adult or so they tell me. I don't have a curfew, I don't have to ask permission to use the car, and I can eat a whole carton of Chunky Monkey ice cream for dinner if I want to. Also, I could very hypothetically blow my entire paycheck on books (not that I've ever done that before because…um… that would be irresponsible…I DON'T LOOK GUILTY YOU DO).
But Spiderman's Uncle Ben taught me well. With great power comes great responsibility and all that. Sure, there's the freedom, but now I also have to worry about real world issues; which health insurance company should I choose? How do I take out a loan? Do I need to write a will? Every month I've got an army of people banging down my door because I owe them money; there's hospital bills, gas bills, electricity bills, water bills, car payments, house payments, credit card payments…you get the idea. And don't even get me started on jury duty. In short, I'm now an adult and that means I get to deal with all the good and the bad that comes with it.
It also means that now would be an excellent and natural time for me to start reading Adult Fiction. Since, you know, I'm an adult. And adults are adult-y and read Adult Fiction. Hahaha, nope. Not me. Hi, my name is Kat and and I still read books written for Young Adults.
I am not ashamed and let me tell you why.
I Like the "Aesthetic" of YA Novels
I think Nick Stefan said it best. "Young Adult" isn't just a shelving category or a sales pitch – it's also a writing style. Fast-paced, engaging, with intense emotions, Young Adult novels have narratives that focus on relationships. Books found in the regular Fiction category aren't often written in this "style," nor do they fit into this "aesthetic." In the end, it's not so much that I want to read books about seventeen-year-olds as it is that I want to read books written in this engaging style.
Adult Fiction is More "Mature"
The gulf between YA Fiction and fiction intended for adults is a wide river to cross, my friends. The small space between these two sections of the library represents a lot of life changes, and once you walk across it, the written contents of a book become more mature, for better or for worse. Suddenly, what was considered risque in one classification is now perfectly acceptable in the other. Implicit becomes explicit. Fiction written for adults has more sex, more foul language, and more drugs than its YA counterpart, and while this might not bother some readers, it intimidates me.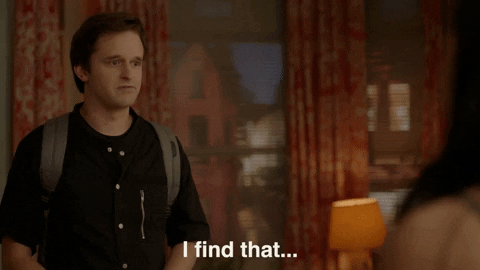 Now don't get me wrong, I'm not saying that all novels written for an adult audience are X-rated, because I know that isn't even close to being true. Nor am I saying that people who like to read those more edgy novels are horrible. Because they aren't. What I am saying is that I personally don't want to read stories that feature explicit sex scenes or are liberally peppered with the f-word. Sure, these things are present in YA fiction too, but they are toned down. The one-night stand fades to black. Authors are more conscious of their use of expletives. There is a sort of safety net, and that goes away once you start reading fiction for adults.
I Can't Relate
As somebody in her mid-twenties, I'm stuck in this weird in-between. I'm an adult, but I'm not AN ADULT™. I don't have it all together like my parents do. I don't own a house or have a hundred grand set away for retirement. Sure, I've got a degree. I've got a job. I've even got a kid. All those things seem like pretty adultish things to me, but I don't feel like an adult. I still text my mom daily about which are the best diapers to buy. I still give my dad SOS calls for help with filing my taxes.
At the end of the day, when I'm snuggling into my bed with a few precious minutes to myself, I'm not reaching for books about adults in their late Forties who have settled into their "adultiness." Right now, I don't feel represented by those stories and there's no appeal in them for me.
The Side Effects
As many of you may already know, earlier this month the lovely and extremely talented Vicky @ Vicky Who Reads published an amazing article talking about how the YA book Community is isolating teens. It really opened my eyes to the unintended side effects of my love of YA and I can't stop thinking about it.
One of the main points that Vicky cites is that a space meant for readers aged 13 -18 is largely being taken over by adults ( 🙋). And it isn't just Vicky who's saying it – the stats are saying it too. A 2012 survey showed that 55% of YA readers are actually adults, a fact that publishers are aware of and are catering to. Upper YA with adult stand-in characters are blowing up bookshelves around the world, leaving some teens feeling unrepresented and disconnected from books that are supposed to be about them.
New Adult Novels Need to Be A Thing
So, what can be done? I obviously don't want to stop reading YA novels (since I've literally just spent this whole post gushing about how much I love them), and I don't think that is the proper solution either. Vicky argued that we need more lower YA novels for the "in-betweeners," and similarly I would suggest that we need a genre for us older "in-betweeners" as well. We need a category of books that helps bridge the gap between YA and Adult fiction written with us "new adults" in mind. Oh wait, there is a genre like that:
"So what's the problem, Kat?" you might ask me. "If New Adult already exists, then why bring this up at all?"
Well, first off, there is a lot of confusion surrounding what the New Adult genre is and what it isn't. Publishers and booksellers alike are unsure of where to shelf or how to market these in-between books, and thus, we readers are also left in confusion. Just look at how Goodreads users shelved the newly released and immensely popular book, Kingdom of Ash and you'll see what I mean:
Another issue is that the New Adult genre is notorious for being full of erotica. Granted, there are many authors and publishers (Inde, self-published, or otherwise) out there with NA books that aren't full of blush-inducing scenes, but the stigma still remains. And sadly, sometimes the stigma holds more sway than the reality.
Need proof? Just check out these new releases tagged as "New Adult," on Goodreads:
Similarly, on Amazon, the New Adult category is paired with "College Romance" as a single genre, supporting the idea that the two are largely synonymous to booksellers and publishers.
Now, if you like that sort of thing, that's cool. I'm not one to judge what people like to write or read; you do whatever makes you happy. Similarly, I am in no way trying to devalue a well-loved genre or say that it has no meaning. But me? I see a cover with a half-naked man on it and I'm already down the hall, out the door, and halfway to Aruba. Smut, erotica, and bodice rippers are not my cup of apple juice. Give me some Fantasy, and I'll be golden.
Unfortunately, major publishing companies have designated the term "New Adult," to mean erotic college romances, so that's what we are getting.  But that's not what I, as a new adult, want. It's not what I need. And most importantly, it's not even close to what I actually experience in my day-to-day life.  
What I want is more New Adult books written in the "YA aesthetic." What I need is more books that explore the themes of self-discovery and coming-of-age that are so often found in YA novels. Just like the characters in those books, I'm still coming-of-age; I'm still struggling and I'm still trying to discover who I am and what I want. And I think a lot of people, no matter their age, can relate to that.
Book Recommendations
If this post had your head nodding up and down in agreement, then check out my non-exhaustive list of NA books written in the YA style ft. a bunch of fictional characters who are 20(ish).
Are you a 20-something reader who loves YA like I do? I've given you my reasons for reading it – what are yours?
Do you feel like books do a good job representing people in their twenties? Why or why not?
Have you read any New Adult books that have the "YA Aesthetic?" Share your recommendations in the comments!
---
Also, a special thanks to Marie @ Drizzle & Hurricane Books, who helped me look over this post! You are awesome, and don't you forget it!